Material: 7075 Aluminum
Head Type: Button Head Hex
Thread Diameter: M3
Length: 6mm, 8mm, 10mm, 12mm, 14mm, 16mm
Color Options: Dark Blue,Silver, Pink, Light Blue, Black, Orange,Purple, Green, Red, Titanium Grey, Gold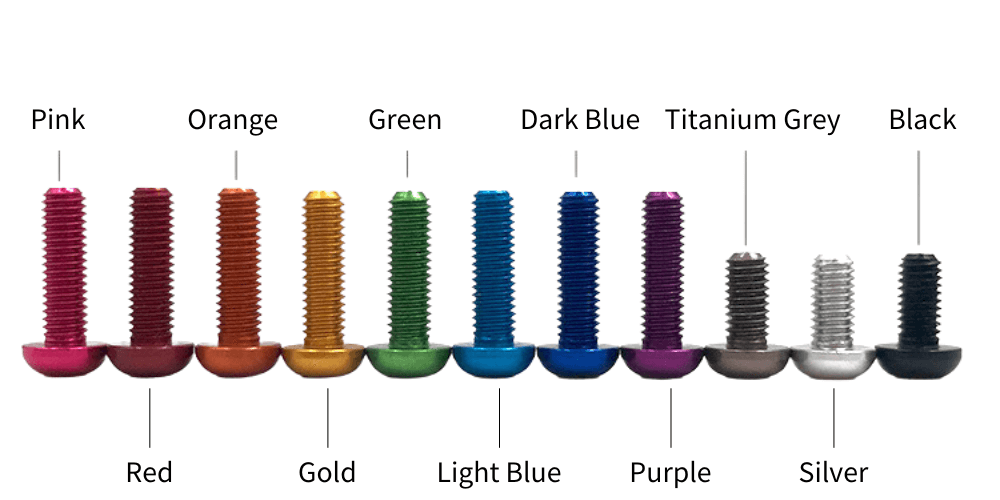 Features
High Strength: 7075 aluminum is known for its exceptional strength-to-weight ratio, making these screws ideal for applications that require durability and reliability.

Corrosion Resistance: The 7075 aluminum alloy offers excellent resistance to corrosion, ensuring that these screws can withstand harsh environments and maintain their performance over time.

 Lightweight: Compared to other materials like steel, 7075 aluminum is significantly lighter, making these screws a great choice for applications where weight reduction is important, such as aerospace or automotive industries.

Non-Magnetic: 7075 aluminum is non-magnetic, making it suitable for applications where magnetic interference is a concern, such as in electronic devices or sensitive equipment.

Attractive Appearance: The colored button head design adds a touch of style and visual appeal to your projects, making these screws not only functional but also aesthetically pleasing.

Easy Installation: The button head design allows for easy installation and removal using standard hex wrenches, providing convenience and time-saving benefits.

Versatile Applications: 7075 aluminum colored button head hex screws are widely used in various industries, including automotive, aerospace, electronics, robotics, and DIY projects, offering versatility and adaptability to different applications.